I normally have all of my Christmas shopping done by this point, but this year, I'm slacking. Things have been crazy, and I just don't have all of my Christmas Shopping done. Although I have only a couple gifts left to pick up, it's still stressful. Since I figured I can't be the only one that has a few last minute Christmas Gifts to pick up, I wanted to help you out as well. I have a few Christmas Gift Ideas for EVERY budget!
$10.00 and Under: 
Popcorn Tin + RedBox Rentals 
Have a family to buy for? How about picking up a popcorn tin (you can purchase from Kmart and choose free in store pick up to skip the lines!) and giving a couple RedBox rentals? Purchase the rentals from RedBox* and use this cute FREE printable to write down the RedBox codes. Then give the printable/codes with the popcorn tin for a "movie night".
Chick-fil-a Calendar
The Chick-fil-a calendars are just $7.00 and have a freebie for each month! Purchase one for a gift and for yourself since it will pay for itself throughout the year.
$20.00 and Under: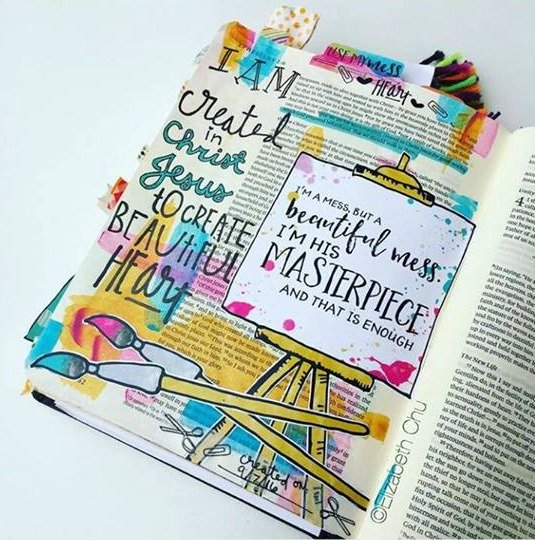 Bible Journaling
Gifting an experience is such a fabulous gift! Bible Journaling is very popular this year, and many people want to learn how to do it. Tipsy Easel (local to me) offers classes teaching you how to journal in your Bible! They have a devotional and then teach some hand lettering techniques, and an image to go with the devotional. These classes are just $15.00! You can "gift" this via a gift certificate. Just stop by the studio or purchase a gift certificate online here, or call the studio to arrange a time to pick it up.
e-Gift Cards
You can purchase e-Gift cards for any amount. I think $20.00 and under are a great amount for a gift and/or stocking stuffer. You can have the e-Gift cards emailed to your recipient or print it and put in an envelope for a gift.
$50.00 and Under: 
Restaurant Gift Cards
There are a lot of restaurants offering bonus gift cards when you purchase a gift card! Keep the bonus gift card for yourself or gift it as well. Here is a list of restaurant gift card promotions:
Throw in a baby sitter when you gift this to a young couple with kids, and they will thank you forever! 😉
$100.00 and Under: 
Amazon Prime Membership
For the ultimate gift for a family, you can gift them an Amazon Prime Membership!
With an Amazon Prime Membership, you get the following:
FREE 2-Day Shipping
Prime Music: unlimited, ad-free access to more than a million songs
Prime Video: unlimited streaming of movies and TV episodes
Prime Photos: unlimited, secure photo storage
20% off diapers
Access to extra coupons each month
FREE release date delivery (on new releases)
Early Access to deals
Prime Pantry
And much, much more!
Give the gift of Amazon Prime here. You can either pay $99.00 or three months of $33.00 to break up the amount.
*You can purchase five Redbox Rentals for $7.50. Have the codes emailed to you and you can give two to four (two per printable) to go with the popcorn tin and keep one for yourself!